Many photographers dream of being able to sell their photos online, but how to do this in the digital age? This article will give you some ideas on how to make money from your photography online.
Now, to start with, I am not going to claim to be a guru on how to do this. Nor am I going to claim to have made millions online from selling photography. A more accurate description would be someone who has, over the years had some success, but also a fair few failures. Through that process, I have learned some of the things that seemed to work well, or not.
With any form of online selling, it's about finding the right chord to engage with your audience. Depending on what style of photography you are shooting, and your technical know-how, will impact which platform works best for you.
Ok, so you have a few avenues open to you if you want to make money online from your photography. These are sequenced in a way that goes from the easiest to the most difficult.
Sell digital prints through stock photography sites like Adobe Stock or iStock
Sell your prints through a dedicated photography portfolio site like SmugMug
Set up an online through a genric storefront like Etsy
Set up your own dedicated website
When deciding whats best for you, there is no reason why you cant explore more than one of the options.
Making Money With Stock Photography
Setting up a stock photography account is most definitely the easiest way to get started selling photography online. You set up an account with a platform like iStock or Adobe Stock, and apply to be a contributor. This involves filling in a form or two and once accepted you start to upload your work. Before your work gets published, it goes through a review by the site. This is to make sure it conforms to their guidelines and does not breach copyright. But the process is normally trouble free.
iStockphoto
From experience, I have had an iStock account for more years than I dare to admit. Back in the day before iStock merged with Getty, it used to make a healthy 4 figure sum each year. These days though iStock seems to have gone much more American Dream than it used to. Just think of people with unnaturally white teeth and cheesy smiles, and you will get the idea. I still sell photographs on iStock, but I would call it more pocket money than a steady income these days. But this doesn't mean iStock won't work for you, as I said above, it all depends on the style of photography you do, and ringing a chord with your audience.
Adobe Stock
Another site to consider is Adobe Stock. The process of applying is pretty much the same as for iStock. In terms of what is on the site, and at least from my viewpoint, the imagery and presentation on the site Adobe Stock has a fresher and modern global appeal.
Whichever way you decide to go with Stock Photography sites, the model is the same. When you upload a photo, you add descriptive content and tags that are relevant to your image. Once it is approved, everything else is done for you. No need to worry about marketing, protecting your images, collecting payments etc. You get a commission on every sale. Depending on how many sales you make, also affects what your commission level is.
Stock Photography Conclusion
Another great thing about these sites, is that you can sign up for commission shots. Companies set out a theme that they need for their business, then you go and capture some images that meet the spec. It's kind of like a competition as you are competing against other photographers all vying to get picked. But whether you do or don't, you still get some more images that you can use on the platform.
The downside of selling through stock photography is that even on the top tier commission rates, the host website is making most of the money out of the deal. Also, you have very little control over making your account stand out. You get a portfolio/contributor view that you can kind of structure in a way to keep people on your images, but thats pretty much all. I think what I am trying to say here is you are basically a small fish in a big sea of other stock photographers.
If you are interested in starting out this way or using this as a new way to make money from your photography, find out more from our affiliate Adobe:
Selling Through an Online Portfolio
An online portfolio is a fantastic way of showcasing your work. There are a few platforms that can do this for you, SmugMug is one that stands out from the crowd.
The whole purpose of SmugMug is so that people can show-case their photographic images in a creative and aesthetic way. Depending on what package you choose (more of this in a moment), there are various portfolio templates to choose from. You have the ability to tailor the colours and layout to suit your needs, including HTML and CSS integration. The whole process of signing up and uploading your images is a breeze, and SmugMug even integrates with tools like Lightroom and Luminar so that you can upload images directly from there.
Regardless of the plan you choose, you get unlimited, full-resolution photo storage, and you can choose which photos are shown publically, to friends, and clients. Once you are set up, customers can order directly from your site. You dont even have to worry about fulfilment, this is all handled directly by SmugMug
Another great thing about SmugMug is that your customers are not just limited to buying prints, you can buy prints on canvas, metal, as well as giftware. SmugMug also offers top-notch customer support if you get stuck.
SmugMug Plans
To sell for profit on SmugMug you must at least have a Portfolio level account. Below this, you can still sell, but you don't take any of the proceeds. Here are the plans (at time of writing):
As a bonus, if you decide to go this way, as a SmugMug Affiliate we have a 15% discount for you as well as their standard 14 days free trial on the link below: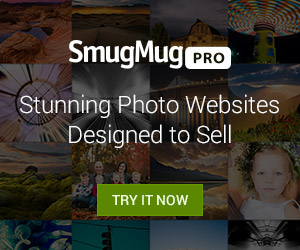 SmugMug Conclusions
The downside with a dedicated portfolio site is the up-front costs, yes, you keep most of the profit on your sales, but the yearly costs are already baked in. This is fine if you already have an online presence, but can be more difficult for those wanting to start out on a shoestring. This is where generic storefronts may prove to be beneficial.
In conclusion though, if you don't mind the initial setup costs, SmugMug user interface, ease of setup and tailoring, plus the customer support is second to none. One final thing I didn't mention above, is that on the Portfolio plan and above, you can even use your domain name instead of SmugMug's, which helps to build your brand.
Selling Photos on Generic Storefronts
Generic storefronts have grown in popularity over the last few years. They have one big advantage over other methods of selling online. This is that the users are on the site to buy stuff, so you have a ready-made engaged audience.
One of the best generic storefronts on the web is Etsy. They showcase products from independent sellers. On the site, you will find an eclectic collection of bespoke jewellery, gifts, housewares, art and more. This does bring with it one downside. The site is not designed to showcase your work in a way that a portfolio does. As you might expect, because you are on a generic shopping site, the user interface is standard across the site. There is very little customizability to the look or feel, you get what you are given.
If you are setting up an online store on a budget though, Etsy is free to set up an account. The financial model works on the basis that you pay for each listing you put on the site. One of the things you will need to take care of is order fulfilment. So, you are probably going to want to get prints of the photography you are selling ready, and then replenish when it sells.
Etsy Conclusions
Whilst Etsy is geared toward low-inventory handmade & bespoke items, it can be made to work for photographic prints. Setting up a storefront can be achieved without a lot of effort or cost and the Etsy marketplace provides you with a ready-made captive audience.
Selling Photography From Your Own Website
If you are a Do It Yourself sort of person, then you may want to consider setting up and running your own website. If you are going down this route then you are going to have to spend the time to take care of quite a few things.
You need to decide on a host for your website, as well decide on your domain name.
There are several options open to you to build a website, WordPress is probably the most straightforward. Although if you do want to do something DIY, then why not build something from scratch!
You need to create some form of the storefront, if you used WordPress, then you can use Shopify or similar plugins to do this for you. This route has the advantage of taking care of the order fulfilment. But again, you can develop this yourself using PayPal APIs to integrate with your site.
It stands to reason that you need to do the order fulfilment side of things.
Last but not least, you need to take care of all the marketing so that people actually find your website.
The good thing about all this is that you are in complete control of your destiny, and can generate your brand as you want it. The downside of course is you have a lot of work to get your site up and running and in front of your users.
I hope you found this article has given you a few ideas about how to make money from your photography online. Be sure to check out some of our other Photography Life articles.
---
---
The Photography Group are affiliated with some of the biggest names in the photographic industry, and with whom make this page possible:
Adobe – Adobe creative applications are the benchmark in the industry. Photography focussed plans start at £9.98/m inclusive of VAT for Adobe Lightroom and Adobe Photoshop plus 200Gb of document storage.
DJI – Fly as you are! Discover DJIs range of drones and gimbals.
Joby – Joby has designed mounts, cases, lights, stands and grips with a user-centric approach. The end result is a range of functional yet playful, innovative yet easy to use products.
Luminar 4 – Revolutionary tools and AI technologies give superpowers for creative photo editing.
Manfrotto – Discover Manfrotto's exciting world of accessories and solutions for photographers and videographers.  Carefully designed for your unique photography or videography experience.
Vaonis – The company that brought us the STELLINA, and revolutionised astronomy, making it accessible to a broad audience from anywhere in the world, even in the heart of the city.
---
Specialising in landscape and wildlife photography, David is a semi-professional photographer based in Scotland, with an established fine art and stock photography portfolio; which includes published photography with the New York Post, Huffington Post, as well as various travel and tourism companies worldwide.